Lessons
Introduction
Welcome to the Main Lessons Section!
Learn How to Play Piano Online With Zebra Keys - Free Piano Lessons for Various Levels of Difficulty
In this section, you will find over
50 free piano lessons
that will help you to learn how to play piano and understand
music theory
. You can expect to learn how to
improvise
your own piano music and versions of your favorite tunes and even
write your own songs
! Our piano lessons are available for
absolute beginners
and for difficulty levels such as
beginner
,
intermediate
, and
advanced
. Each level of difficulty is sub-divided into five mini sections including
Learn Songs
,
Chords
,
Music Theory
,
Improvisation
and
Technique
.
If you have just recently ventured into the world of piano playing, take a close look through our
preparation
section which is dedicated to helping you get started on basic piano playing concepts. If you are not a beginner, you will find that Zebra Keys teaches understanding of more complex piano concepts.
Most of our piano lessons are
accompanied by Flash animations
, which require Flash Player version 5 or higher to view certain parts of the piano lessons. Go to the
Adobe
website to download the latest version of
Flash Player
. Remember to check back often for new piano lessons. Enjoy!
Recommended Stuff
How to Play Piano - Free Lessons
Lesson 1
- Patterns of the Piano Keys (
Flash
Demo version)
Teach Yourself to Play Piano
| | |
| --- | --- |
| Lesson 2 - Names of White Keys | Lesson 3 - Names of Black Keys |
Lesson 8
-
How to play Twinkle Twinkle Little Star
(
Flash
Demo version)
Download
Free Sheet Music
Lesson 4 -
Music Notation
Lesson 14 -
Intervals
(with Flash Demos)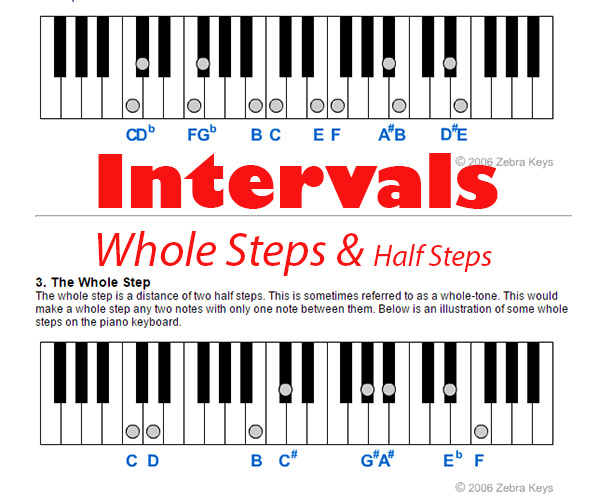 List of 50 Free Piano Lessons
Custom Search
Basic Piano
Beginner Piano
Intermediate Piano
Advanced Piano
ZebraKeys Z-Board
Use
the virtual piano keyboard below to practice what
you've learned in the "
Piano Basics
" section -
Piano Layout
.
You can play this
Virtual Piano Z-Board
in two ways:
1. Use the computer mouse to click directly onto the key or
note (
in Red
) on the Virtual Piano to play that note,
or
2. Press the corresponding button (
in Blue
) on your computer
keyboard to play that particular note


(

Note

: You have to first click on the virtual piano once to activate this feature)
e.g.
Press
"Shift" button on the computer
keyboard to play note "C",
Press
"S" to play note "E", and so on.
To play C Major Chord (C-E-G) -
Hold down
"Shift"-"S"-"F" on
the computer keyboard all at once, see chart below:
Access Major Chord chart
Chord
Name


Notes
of the
Chords
To play the left hand chord - Hold down all the keys at the same time (in BLUE) on the computer keyboard to play the chord

__________

__________

__________

C chord

C - E - G

Shift - S - F

G chord

G - B - D

F - B - N

F chord

F - A - C

D - G - SpaceBar

Dm chord

D - F - A

A - D - G
1.

Click

to play the video below:

2.

PRESS

the PAUSE button on the video after each measure is played

3.

Use

the Z-Board above to practice how to play each measure (by using computer mouse to click directly on the Z-Board keyboard above.

To practice on your piano keyboard at home or at school, the

fingerings

are as follow:


1

= Thumb


2

= Index Finger


3

= Middle Finger


4

= Ring Finger


5

= Pinky

Learn

how to play this
Beginner Song - Brother John

Easy Piano

Christmas Songs

-
Jingle Bells, Deck The Halls




























Recommended Lessons and Links