Technique
Introduction
Welcome to the Technique Section for Beginner Students!
Piano technique is how the piano player is physically executing his or her performance. A good way to improve your technique is to perform finger exercises.
In this section, you will be learning some finger exercises that are really fun to play and also fun to listen to. These exercises will also improve your finger strength and flexibility. Below is a list of the finger exercises that you will be learning such as "
Sounds of the Orient
", "
Mysterious Sounds
" and "
Arpeggios
". We'll get your fingers racing across the piano keyboard skillfully in no time! A detailed description of each lesson is listed below.
Recommended Stuff
Click to Install

Flash Plugin if you cannot view the Flash Demos on this page
Piano Technique for Beginners
| | | |
| --- | --- | --- |
| Lesson 22 | Lesson 21 | Lesson 23 |
__________________________________________
Corrections for Lesson 21

- Pentatonic Scale
Below are the intervals of

Pentatonic Scale

:



| | | | | | | | | | | |
| --- | --- | --- | --- | --- | --- | --- | --- | --- | --- | --- |
| Root | - | W | - | W | - | m3 | - | W | - | m3 |
| I | - | II | - | III | - | V | - | VI | - | I |


whole step (W)
3 half steps = minor third (m3)
4 half steps = major third (M3)


Play all black keys:

| | | | | | | | | | | |
| --- | --- | --- | --- | --- | --- | --- | --- | --- | --- | --- |
| Gb | - | Ab | - | Bb | - | Db | - | Eb | - | Gb |

Play white key transposition:





Intervals between:
Gb to Ab is a whole tone (whole step)
Ab to Bb is a whole tone
Bb to Db is three (3) semi tone (half tone), or m3
Db to Eb is a whole tone
Eb to Gb is three (3) semi tone (half tone), or m3

Free
tutorials with Flash demos
Learn to play songs below:
Lesson 24
America (My Country Tis of Thee)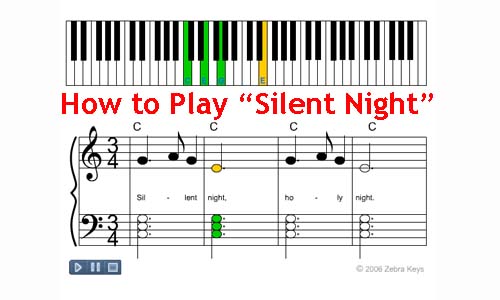 Basic Piano
TEST
your piano skills with these
Free
Music Tools below:
Keyboard Trainer
(after completing Lessons 2 & 3)
Note Trainer
(after completing Lesson 4)
Beginner Piano
Intermediate Piano
List of
50 Free Piano Lessons
Custom Search



Access

free Virtual Piano Keyboard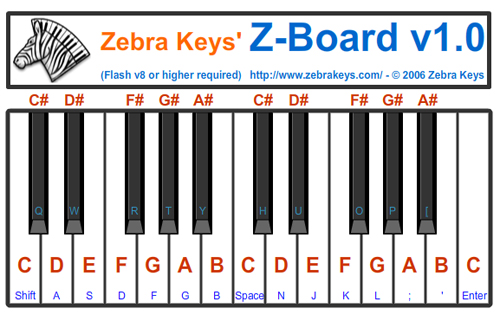 Learn

Five Fingers Exercise