Reviews
Introduction
Welcome to the Main Reviews Section!
Piano Reviews for Your Convenience
This section focuses on reviewing some of the
best piano-related products
we have found. Our reviews will help you make
smart and well-informed decisions
. Please take a more in-depth look at some of the best piano products that Zebra Keys has found!
Instructional Piano Reviews
There are tons of
DVD's
and
books
out there available on the topic of piano playing. Zebra Keys wants to make it as
easy as possible
for you to find all the information you need in one place by providing you with
instructional reviews
on the best piano products.
Piano Equipment Reviews
Since we know it is sometimes difficult to decide on which
piano keyboard
or
piano keyboard accessory
is the best fit, Zebra Keys provides you with
equipment reviews
as well.
Recommended Stuff
Access FREE
Music Tools
to TEST your piano skills
Free Virtual Piano Keyboard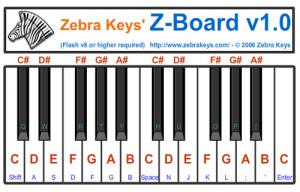 How to play more Songs for Beginners -
This Old Man, Yankee Doodle, Camptown Races
Free
Virtual Piano
provided
Download
Free Sheet Music
List of 50 Free Piano Lessons
Custom Search
Basic Piano
Beginner Piano
Intermediate Piano
Advanced Piano
ZebraKeys Z-Board
Use
the virtual piano keyboard below to practice what
you've learned in the "
Piano Basics
" section -
Piano Layout
.
You can play this
Virtual Piano Z-Board
in two ways:
1. Use the computer mouse to click directly onto the key or
note (
in Red
) on the Virtual Piano to play that note,
or
2. Press the corresponding button (
in Blue
) on your computer
keyboard to play that particular note


(

Note

: You have to first click on the virtual piano once to activate this feature)
e.g.
Press
"Shift" button on the computer
keyboard to play note "C",
Press
"S" to play note "E", and so on.
To play C Major Chord (C-E-G) -
Hold down
"Shift"-"S"-"F" on
the computer keyboard all at once, see chart below:
Access Major Chord chart
Chord
Name


Notes
of the
Chords
To play the left hand chord - Hold down all the keys at the same time (in BLUE) on the computer keyboard to play the chord

__________

__________

__________

C chord

C - E - G

Shift - S - F

G chord

G - B - D

F - B - N

F chord

F - A - C

D - G - SpaceBar

Dm chord

D - F - A

A - D - G
1.

Click

to play the video below:

2.

PRESS

the PAUSE button on the video after each measure is played

3.

Use

the Z-Board above to practice how to play each measure (by using computer mouse to click directly on the Z-Board keyboard above.

To practice on your piano keyboard at home or at school, the

fingerings

are as follow:


1

= Thumb


2

= Index Finger


3

= Middle Finger


4

= Ring Finger


5

= Pinky

Learn

how to play this
Beginner Song - Brother John

Easy Piano

Christmas Songs

-
Jingle Bells, Deck The Halls




























Recommended Reviews and Links