Contact Us
Introduction
Welcome to the Main Contact Us Section!
We Would Love to Hear From You
Love the site, dislike it, thought something was particularly cool, or not? We would love to hear your thoughts! Do you have a
cool new feature
or section idea? Tell us!
If you have any suggestions on how we can
make Zebra Keys a better site
, we would love to hear your suggestions! Do you want something added, or you have a particular song you would like Zebra Keys to make available to you? Let us know!
Also, if you find any bugs or errors, please report them to us. Send all your comments, suggestions, requests, and error reports here.
We would love to hear from you!
Thank you for making the Zebra Keys community a better place!
Email:
support@zebrakeys.com
If you have questions about advertising with us, email us at
advertise@zebrakeys.com
If you would like to submit your own fan video, artwork, and/or picture (i.e. you holding up a sign that says "I Love Zebra Keys!"), please submit to
fans@zebrakeys.com
! We would really appreciate it! =D
If you feel that Zebra Keys has made a difference and you'd like to help support our website, please use our donation button below. We are very grateful for your support!
Recommended Stuff
Custom Search
Basic Piano
TEST
your piano skills with these
Free
Music Tools below:
Keyboard Trainer
(after completing Lessons 2 & 3)
Note Trainer
(after completing Lesson 4)
Beginner Piano
Intermediate Piano
Advanced Piano
List of
50 Free Piano Lessons
Custom Search



Access

free Virtual Piano Keyboard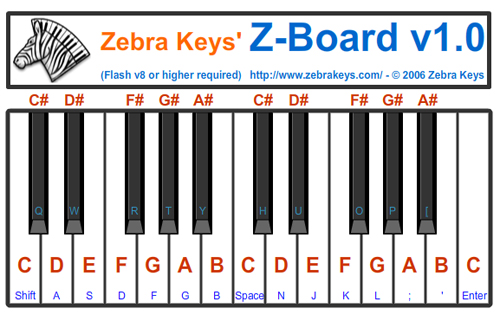 Learn

Five Fingers Exercise