Piano Layout
Introduction
Welcome to the Piano Layout Section!

Find Your Keys

In this section, you will learn how the black and white keys on the piano keyboard are organized. This includes the names of individual keys and animated diagrams of the piano keyboard. Zebra Keys will teach you how to group keys together which will help you to visualize the piano keyboard in a less intimidating manner.

Learn Your ABC's for the Piano Keys

Also, you will get a chance to put your ABC's into good use! Well, at least the first seven letters that is. Overall, these piano layout lessons will help build a strong foundation for any beginning learner!


Recommended Stuff
Click to Install
Flash Plugin
if you cannot view the Virtual Piano above
Piano Basics
Easy Piano Lessons for Kids and all Beginners
CASIO 44KEY MINI KYBRD
For Beginners, under
$50
John Thompson's Modern Course for the Piano: First Grade Book
Provides a clear and complete foundation in
piano study enables students to think musically
Teaching Little Fingers to Play
A Book for the Earliest Beginner
(John Thompsons Modern Course for The Piano)
John Thompson's Easiest Piano Course Part 1
A Comprehensive Step-by-step Course
Designed for
Children Beginning Piano
Access
Full Version of this lesson - Click below: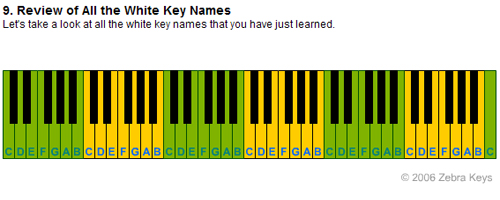 TEST
your piano keyboard skills using
Keyboard Trainer
after
completing Lessons
2 & 3
Access
50 Free Piano Lessons
Access
Full Version of this lesson - Click below: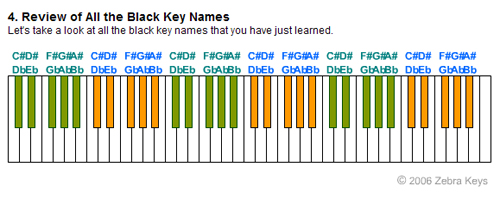 Access
Free
Note Trainer
to TEST your Note Reading skills after completing Lesson 4
List of 50 Free Piano Lessons
Custom Search
Basic Piano
Beginner Piano
Intermediate Piano
Advanced Piano
ZebraKeys Z-Board
Use
the virtual piano keyboard below to practice what
you've learned in the "
Piano Basics
" section -
Piano Layout
.
You can play this
Virtual Piano Z-Board
in two ways:
1. Use the computer mouse to click directly onto the key or
note (
in Red
) on the Virtual Piano to play that note,
or
2. Press the corresponding button (
in Blue
) on your computer
keyboard to play that particular note


(

Note

: You have to first click on the virtual piano once to activate this feature)
e.g.
Press
"Shift" button on the computer
keyboard to play note "C",
Press
"S" to play note "E", and so on.
To play C Major Chord (C-E-G) -
Hold down
"Shift"-"S"-"F" on
the computer keyboard all at once, see chart below:
Access Major Chord chart
Chord
Name


Notes
of the
Chords
To play the left hand chord - Hold down all the keys at the same time (in BLUE) on the computer keyboard to play the chord

__________

__________

__________

C chord

C - E - G

Shift - S - F

G chord

G - B - D

F - B - N

F chord

F - A - C

D - G - SpaceBar

Dm chord

D - F - A

A - D - G
1.

Click

to play the video below:

2.

PRESS

the PAUSE button on the video after each measure is played

3.

Use

the Z-Board above to practice how to play each measure (by using computer mouse to click directly on the Z-Board keyboard above.

To practice on your piano keyboard at home or at school, the

fingerings

are as follow:


1

= Thumb


2

= Index Finger


3

= Middle Finger


4

= Ring Finger


5

= Pinky

Learn

how to play this
Beginner Song - Brother John

Easy Piano

Christmas Songs

-
Jingle Bells, Deck The Halls