Chords
Introduction
Welcome to the Chords Section for Beginner Students!
Chords are one of the basic building blocks of all songs. When you are listening to your favorite song on the radio, the artist is singing words to a background instrumental. This background instrumental is basically various instruments that are mainly playing chords.
Chords are basically 2 or more notes played together or near together. In this section we will be learning about triads, which are three note chords. You will hear chords in virtually every song you listen to. There are three lessons in this section, "
Playing the Major Chord
", "
Three Primary Chords
", and "
12 Bar Blues Chord Progression
". A detailed description of each lesson is listed below.
Recommended Stuff
Click

to install Flash Plugin if you cannot view the lesson with Flash Demos above
Beginner Chord Lessons


Lesson 9 Major Chord



The formular of Major Chord

(Root - 4 Half Steps - 3 Half Steps)

Self-Teaching Adult Piano Course
The New, Easy and Fun Way to
Teach Yourself to Play(
Book & CD
)
Access
free
Virtual Piano Keyboard
to practice playing
Major Chords
in all 12 keys (See the Major Chord Chart at the end of Lesson 9 abov)
Access
FREE
Chord Ear Trainer
above to find any Chords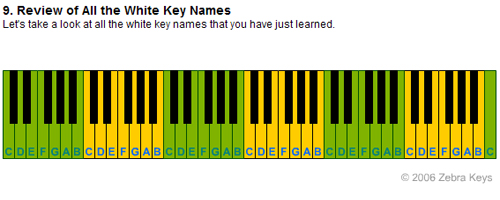 Free Interactive
Music Tools
to TEST your piano skills:
50 Free Piano Lessons
Five Finger Exercise
This book will help to improve your finger dexterity - practice the exercises everyday -
A Dozen a Day: Technical Exercises for the Piano to Be Done Each Day Before Practicing
ZebraKeys Z-Board
Use the virtual piano keyboard below to practice what you've learned in the "

Piano Basics

" section -
Piano Layout. You can play this Virtual Piano Z-Board in two ways:



See all of our Free piano lessons



1. Use the computer mouse to click directly onto the key or note (in RED) on the
Virtual Piano to play that note

2. Press the corresponding button (in BLUE) on your computer keyboard to
play that particular note
(Note: You have to first click on the virtual piano once to activate this feature)



e.g.

Press

"Shift" button on the computer
keyboard to play note "C",


Press

"S" to play note "E", and so on.

To play C Major Chord (C-E-G) -


Hold down

"Shift"-"S"-"F" on
the computer keyboard all at once, see chart below:




Access Major Chord chart


Chord
Name


Notes
of the
Chords
To play the left hand chord - Hold down all the keys at the same time (in BLUE) on the computer keyboard to play the chord

__________

__________

__________

C chord

C - E - G

Shift - S - F

G chord

G - B - D

F - B - N

F chord

F - A - C

D - G - SpaceBar

Dm chord

D - F - A

A - D - G





Access

the "Piano Basics" section to learn the layout of piano keyboard, and

learn

how to read
Music Notations.

Use

this interactive Z-Board to practice playing easy popular songs.





Learn

How to play

beginner song, Brother John - Free Online piano lesson.
Learn more songs. Use the virtual piano keyboard above to practice this song.