Learn Songs
Lesson 25

- Silent Night
I. Index
1.  Introduction

2.  Let's Play Silent Night

3.  Conclusion
II. Content
1. Introduction
In this lesson, you will learn how to play "Silent Night".


2. Let's Play Silent Night
Below is an animation of the right hand melody and left hand chords for Silent Night. First, try and play just the right hand melody. Second, try and play just the left hand chords. Finally, play both the right hand melody and the left hand chords together.






---
3. Conclusion
Congratulations, you have just played "Silent Night"! Try the other songs available in the learn songs section.

Now try out what you have just learned on our virtual piano keyboard below...





Custom Search

Recommended Stuff
Learn Piano Songs for Free
Click to Install

Flash Plugin if you cannot view the lesson with Flash Demos above
Intermediate Learn Songs
Lesson 24
America (My Country Tis of Thee)
Lesson 25
Silent Night
A First Book of Christmas Songs: 20 Favorite Songs in Easy Piano Arrangements (Dover Music for Piano)
20 Favorite Songs in
Easy Piano Arrangements
The Easy Christmas Fake Book
100 Songs in the Key of C (Fake Books)
Easy-to-read notation, simplified harmonies and melodies
Lesson 26
Learn
to play God Rest Ye Merry Gentlemen
Lesson 27
Minor Chord
Access
50 Free Piano Lessons
Download
Free Sheet Music
for Easy Piano,
Classical Songs, and more
Free tutorials for Christmas carols -
Angels We Have Heard On High
Download
Free sheet music for
Jingle Bells
.
See
list
for more songs to learn with Free sheet music
Lesson 23
Arpeggios
Learn
to play
Auld Lang Syne, Hark The Herald Angels Sing
Download
Up On The Housetop
sheet music for Free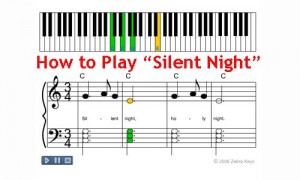 Download "We Wish You A Merry Christmas"


free sheet music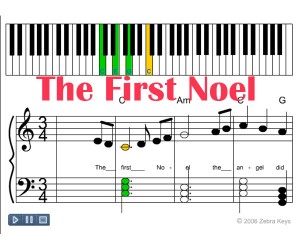 Watch "
Clair de Lune
" playing in full speed
Most Relaxing Classical Music in the Universe
See Track Listings
The Ultimate Christmas Fake Book
Piano, Vocal, Guitar & all "C" Instruments
List of 50 Free Piano Lessons
Custom Search
Hanon's Exercises for Piano Solo
ZebraKeys Z-Board
Use
the virtual piano keyboard below to practice what you've learned in the "
Piano Basics
" section -
Piano Layout
. You can play this
Virtual Piano Z-Board
in two ways:
See all of our Free piano lessons
1. Use the computer mouse to click directly onto the key or
note (in Red) on the Virtual Piano to play that note,

or



2. Press the corresponding button (in Blue) on your computer
keyboard to play that particular note

(

Note

: You have to first click on the virtual piano once to activate this feature)



e.g.

Press

"Shift" button on the computer
keyboard to play note "C",


Press

"S" to play note "E", and so on.

To play C Major Chord (C-E-G) -


Hold down

"Shift"-"S"-"F" on
the computer keyboard all at once, see chart below:
Access Major Chord chart
Chord
Name


Notes
of the
Chords
To play the left hand chord - Hold down all the keys at the same time (in BLUE) on the computer keyboard to play the chord

__________

__________

__________

C chord

C - E - G

Shift - S - F

G chord

G - B - D

F - B - N

F chord

F - A - C

D - G - SpaceBar

Dm chord

D - F - A

A - D - G
Access
the
Piano Basics
to learn the layout of piano keyboard, and how to read
Music Notations
.
Use
this interactive Z-Board to practice playing
easy popular songs
.
How to play

Christmas Songs

-

Jingle Bells

, We Wish You A Merry Christmas, and more

Learn

How to play

beginner song, Brother John - Free Online piano lesson.
Learn more songs. Use the virtual piano keyboard above to practice this song.

PRESS

on PAUSE button on the video, and then practice how to play each measure of Brother John on Virtual Z-Board above:

Lesson 6

Learn Songs for Beginners:

Brother John

Learn how to play

Twinkle Twinkle Little Star

- Free Piano Lesson
Free Interactive
Music Tools
Keyboard Trainer
Note Trainer
Interval Ear Trainer
Scale Ear Trainer
Chord Ear Trainer
How to play

Major Scales in all 12 keys G Major Scale

-

G, A, B, C, D, E, F#, G

Learn

how to play

Major Scale

- Watch the video below:
Furlise | Aria | Canon in D | Moonlight Sonata | Ode to Joy | Greensleeves | The Entertainer & More!