DVD's
Beginning Rhythm Piano: Volume 2
by
Dan Huckabee


Product Details

Title: Beginning Rhythm Piano: Volume 2

Performer: Dan Huckabee

Director: n/a

Format: AC-3, Color, Digital Sound, Full Screen, NTSC

Region: n/a

Number of Discs: 1

Studio: Musicians Workshop

DVD Release Date: November 1, 2003

Run Time: 75 Minutes




Zebra Keys Editorial Reviews

About the Performer

Dan Huckabee is a professional musician who has toured with many professional Bluegrass bands and has also released 5 solo albums. He won the 1976 National Dobro Championships. Beyond performing, one of Dan's main passions is teaching. Dan is the founder and President of Workshop Records Cassette and Video Music Instruction. Since 1973, his company has produced over 2,000 music instruction materials. Dan has also personally taught workshops at festivals around the United States and informal classes at The University of Texas. Let Dan use his vast music experiences to teach you everything you need to know in a fun and easy way!


Introduction

Did you ever want to know how to play piano and sing at the same time? If so, Dan teaches you exactly that in part two of Rhythm Piano. Wait! What is rhythm piano? Rhythm piano is how you play the piano when you are singing a song. Rhythm piano is a great method for beginners as well as piano players who want an introduction to improvisation. It is also great for musicians who play other instruments and would like a good introduction to piano.

Rhythm piano deals with how to play chords using different patterns to accompany songs. The melody is not played but sung with your own voice! Though this method does not teach you note reading, it uses sound music theory concepts that you would learn in any college level music theory course. Whenever you start learning how to read music, you will have a good foundation. It is recommended that you can locate and name the keys of the piano keyboard, and have a basic understanding of chords before going through this DVD.


Contents

In this DVD, Dan demonstrates rhythm piano techniques using familiar songs. Dan performs songs like "Lean on Me", "Amazing Grace", "Sloop John B", "Happy Birthday", "Jingle Bells" and more! You will be learning how to play songs using the 3 primary chords as well as other chord devices like dominant 7th chords and relative minors. Dan will also walk you through how to play these chords using rhythmic patterns like alternating bass and walk-ups.

Below is a full list of the DVD contents.

'50's Rock and Roll Progression
7th Chords
Alternating Bass
Walk-ups
5 of 5 Chord Concept
Chord-Scale Blueprint
Home on the Range
Boogie Woogie
Finger-leap Frogging
House of the Rising Sun
Key of E (Sloop John B.)
Advanced Inversions
Exercises and Chord Theory
Stretch Exercise

Everything is logically explained and played at a comfortable pace. If you have ever wanted to learn how to play songs on the piano while singing, this is a great DVD to check out!

Visit Amazon for further reviews and pricing details.





Recommended Stuff
Piano for Dummies
CD-ROM. A fun and easy way to
Learn piano at your own pace
Easy-to-follow interactive
Lessons with full-motion videos
Learn

Music Theory -
the formula of Major Scale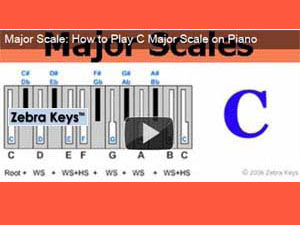 How to play


12 Bar Blues Chords Progression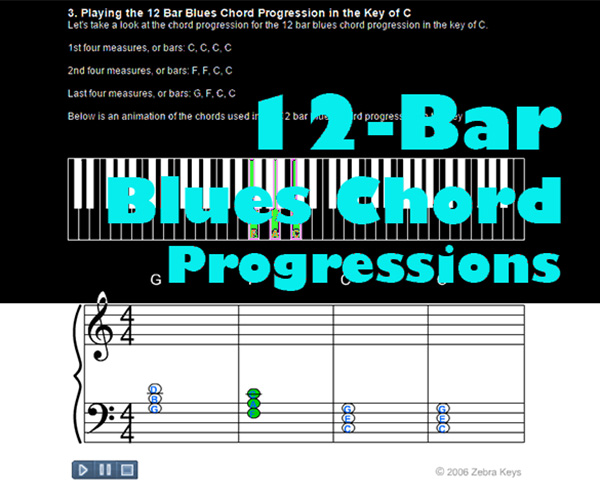 Lesson 37
-
Major Chord Inversions
Lesson 38
-
Chord Inversion Straddles
Access
50 Free Piano Lessons
List of 50 Free Piano Lessons
Custom Search
Basic Piano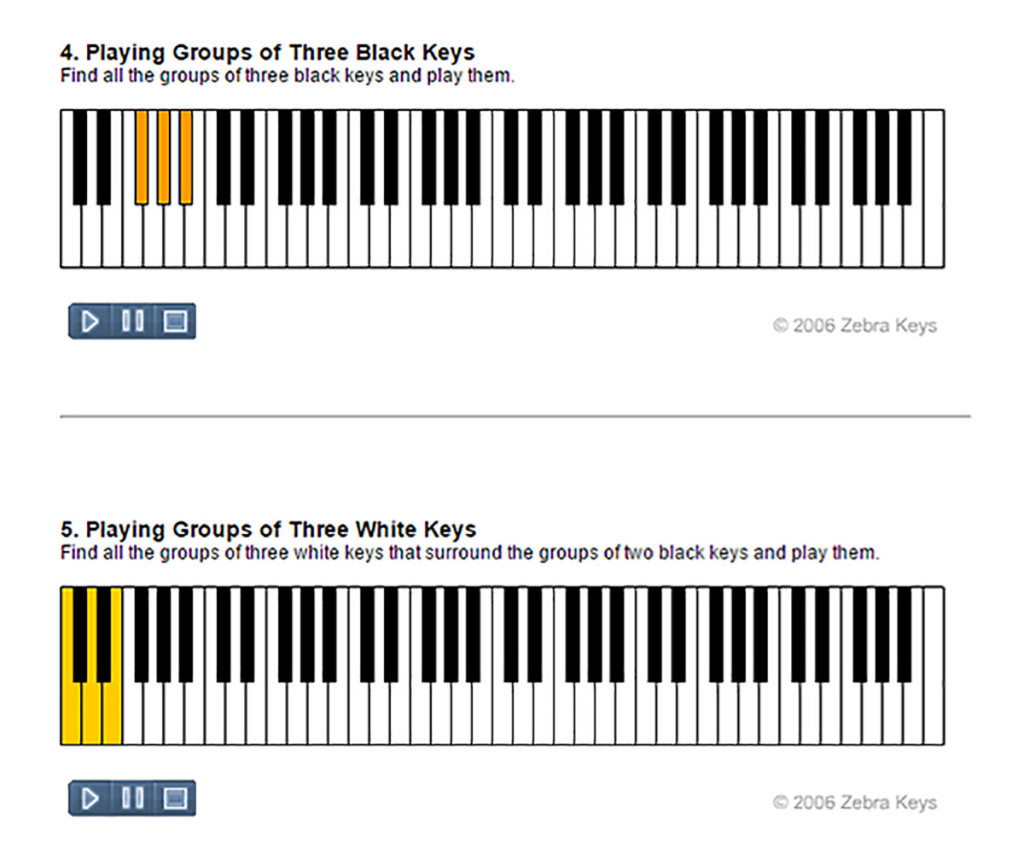 TEST

your piano skills with these

Free

Music Tools

Keyboard Trainer (after completing Lessons 2 & 3)

Note Trainer (after completing Lesson 4)
Beginner Piano
Intermediate Piano
Advanced Piano
Learn

to play these songs
with Flash Demos: London Bridge Is Falling Down
Five Finger Exercise
Access
more free Piano Technique lesson - How to play
Arpeggios
This book will help to improve your finger dexterity - practice the exercises everyday -
A Dozen a Day:
Technical Exercises for the Piano to Be Done Each Day Before Practicing
ZebraKeys Z-Board
Use the virtual piano keyboard below to practice what you've learned in the "

Piano Basics

" section - Piano Layout.
You can play this Virtual Piano Z-Board in two ways:


See all of our Free piano lessons
1. Use the computer mouse to click directly onto the key or
note (in Red) on the Virtual Piano to play that note,

or



2. Press the corresponding button (in Blue) on your computer
keyboard to play that particular note

(

Note

: You have to first click on the virtual piano once to activate this feature)



e.g.

Press

"Shift" button on the computer
keyboard to play note "C",


Press

"S" to play note "E", and so on.

To play C Major Chord (C-E-G) -


Hold down

"Shift"-"S"-"F" on
the computer keyboard all at once, see chart below:
Access Major Chord chart
Chord
Name


Notes
of the
Chords
To play the left hand chord - Hold down all the keys at the same time (in BLUE) on the computer keyboard to play the chord

__________

__________

__________

C chord

C - E - G

Shift - S - F

G chord

G - B - D

F - B - N

F chord

F - A - C

D - G - SpaceBar

Dm chord

D - F - A

A - D - G
Learn

the layout of piano keyboard - Piano Basics
How to read Music Notations


Use

this interactive Z-Board to practice playing
easy popular songs.





1.

Click

to play the video below:

2.

PRESS

the PAUSE button on the video after each measure is played

3.

Use

the Z-Board above to practice how to play each measure (by using computer mouse to click directly on the Z-Board keyboard above.

To practice on your piano keyboard at home or at school, the

fingerings

are as follow:


1

= Thumb


2

= Index Finger


3

= Middle Finger


4

= Ring Finger


5

= Pinky

Learn

how to play this
Beginner Song - Brother John
Easy Piano

Christmas Songs

-
Jingle Bells, We Wish You A Merry Christmas







Free Beginner Piano Lessons
Furlise | Aria | Canon in D | Moonlight Sonata | Ode to Joy | Greensleeves | The Entertainer & More!


INTERACTIVE


Keyboard Trainer
Note Trainer
Chord Ear Trainer
and more