Public Domain Sheet Music
Introduction
Welcome to the Free Sheet Music Section!
This section contains free sheet music. You can download free sheet music for piano of various titles from our sheet music list below. All of the sheet music from the list were first published or copyrighted before
January 1st, 1923
, and they are
free to be redistributed
. ZebraKeys provides you with some of the most popular
songs for beginners
such as Iím A Little Teapot, Clementine, Skip to My Lou, This Old Man, and Yankee Doodle. You can also download
Christmas carols sheet music
for free such as Deck the Halls, We Wish You a Merry Christmas, and Jingle Bells.
Each of the music titles below includes a PDF file ready for you to download
AND
a MIDI file for your listening pleasure. Enjoy Zebra Keys' selection of some of the most popular titles such as
Fur Elise
,
Ode to Joy
, and
Canon in D
!
If you don't see the song you are searching for, please use the search bar below to search for your favorite sheet music (with free sheet music preview) below:
| # | Title | Artist | Genre | Level | File Types |
| --- | --- | --- | --- | --- | --- |
| 1 | Fur Elise | Ludwig van Beethoven | classical | advanced | |
| 2 | Moonlight Sonata | Ludwig van Beethoven | classical | advanced | |
| 3 | Canon in D Major | Johann Pachelbel | classical | advanced | |
| 4 | Ode to Joy | Ludwig van Beethoven | classical | advanced | |
| 5 | Entertainer | Scott Joplin | ragtime | advanced | |
| 6 | Greensleeves | Unknown | traditional | intermediate | |
| 7 | Alice, Where Art Thou? | Joseph Ascher | classical | advanced | |
| 8 | Aria | Johann Sebastian Bach | classical | advanced | |
| 9 | Ballade | Johann Friedrich Franz Burgmüller | classical | advanced | |
| 10 | Aus meines Herzens Grunde | Johann Sebastian Bach | classical | advanced | |
| 11 | Fugue in C major | Johann Sebastian Bach | classical | advanced | |
| 12 | Maple Leaf Rag | Scott Joplin | ragtime | advanced | |
| 13 | Minuit Chrétiens | Adolphe Adam | classical | advanced | |
| 14 | Rondo | Carl Philipp Emanuel Bach | classical | advanced | |
| 15 | Angels We Have Heard on High | n/a | traditional | beginner | |
| 16 | Deck the Halls | n/a | traditional | beginner | |
| 17 | Up On The Housetop | n/a | traditional | beginner | |
| 18 | We Wish You a Merry Christmas | n/a | traditional | beginner | |
| 19 | Camptown Races | Stephen Foster | traditional | beginner | |
| 20 | Jingle Bells | James Pierpont | traditional | beginner | |
| 21 | Row, Row, Row Your Boat | n/a | traditional | beginner | |
| 22 | This Old Man | n/a | traditional | beginner | |
| 23 | Yankee Doodle | n/a | traditional | beginner | |
| 24 | Home on the Range | Dan Kelly | traditional | beginner | |
| 25 | Oh Susanna! | n/a | traditional | beginner | |
| 26 | Where Has My Little Dog Gone | n/a | traditional | beginner | |
| 27 | Brahms' Lullaby | Johannes Brahms | traditional | beginner | |
| 28 | If You're Happy and You Know It | n/a | traditional | beginner | |
| 29 | Clementine | n/a | traditional | beginner | |
| 30 | Aura Lee | n/a | traditional | beginner | |
| 31 | I'm a Little Teapot | n/a | traditional | beginner | |
| 32 | Rock-a-bye Baby | n/a | traditional | beginner | |
| 33 | The Ash Grove | n/a | traditional | beginner | |
| 34 | Skip to My Lou | n/a | traditional | beginner | |
| 35 | What a Friend We Have in Jesus | Charles C. Converse | traditional | beginner | |
Recommended Stuff
Access
50 Free Piano Lessons
Learn
how to play Easy Songs:
Brother John
|
Twinkle Twinkle Little Star
Learn Song
,
America (My Country Tis of Thee)
Learn
to play
Silent Night
Download
Free sheet music
Fur Elise
|
Greensleeves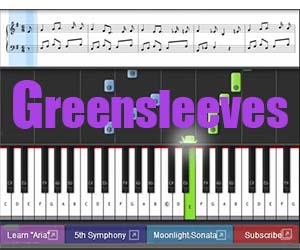 Learn How to Play Songs
below, free sheet music provided
Aura Lee

|

Fur Elise

|

Oh Susanna!

|

We Wish You A Merry Christmas
The Entertainer

|

Fugue in C Major
Ragtime Music

-

Maple Leaf Rag

|

Skip to My Lou

|

Yankee Doodle
Camptown Races

|

Greensleeves

|

I'm A Little Teapot

|

Moonight Sonata
Easy Songs --

Rock-a-bye Baby

,

This Old Man

,

Oh! Where Has My Little Dog Gone
Learn
how to play Christmas Songs:
The First Noel
|
Hark! The Herald Angels Sing
List of
50 Free Piano Lessons
Custom Search



Access

free Virtual Piano Keyboard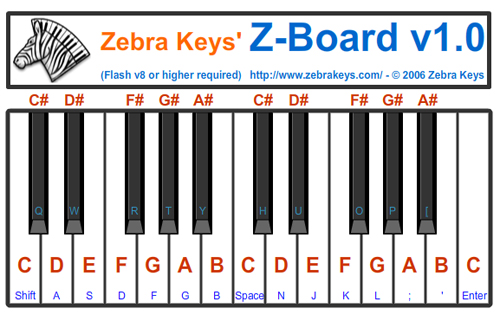 Learn

Five Fingers Exercise