Virtual Piano Chords
Introduction
Welcome to the Virtual Piano Chords Chart!

Looking for a chord? Don't worry! This virtual piano chords chart, written by Colm Mac Cárthaigh, is all you will ever need to find any chord of your desire. This reference chart offers many features that will help you find exactly what you are looking for. Enjoy!


Recommended Stuff
Click to Install

Flash Plugin if you cannot view the Flash Demos on this page
Use

Virtual

Piano Chord Chart

above to find a CHORD you wish to play,

then use the

Virtual Piano

Z-Board below to play that chord

(you can also find the SCALE for that particular chord)
Access
List of Free Music Trainer Tools
List of
50 Free Piano Lessons
Custom Search



Access

free Virtual Piano Keyboard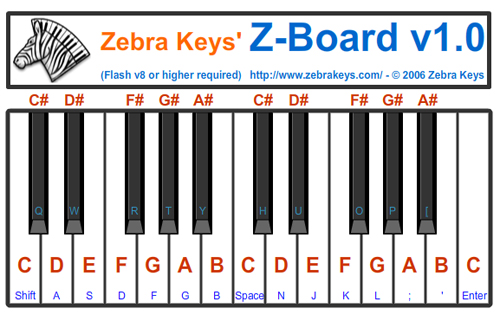 Learn

Five Fingers Exercise


Copyright © 2006-2018 Zebra Keys. All rights reserved.