Learn how to play Hark! The Herald Angels Sing. This song introduces two new dominant 7th chords – D7 and A7, besides G7 that you have learned in Auld Lang Syne.
So, there are three dominant 7th chords, and three minor chords – Dm, Am, and Em.

This song is played in 4/4 time, which means there are four beats in a measure, and each beat get a quarter note.
Notes on the right hand are:

[Corrections:
1 the notes should be G C C B, instead of A D D C. Notes listed in the sheet music were incorrect, but notes on the keyboard are correct]

|
G C C B
|
C E E D
|
G G G F
|
|
E D E
|
A D D C

1

|
C E E D
|
|
G D D B
|
B A G
|
G G G C
|
|
F E E D
|
G G G C
|
F E E D
|
|
A A A G
|
F E F
|
D EF G C
|
|
C D E
|
A A A G
|
F E F
|
|
D EF G
|
C D C
|




Here are the chords for the left hand, they are:

|
C
|
C G7
|
C Dm
|
|
G7 C
|
C
|
Am D7
|
|
C
|
D7 G
|
C Am
|
|
Dm G7
|
Em F
|
Dm G7
|
|
F A7
|
A7 Dm
|
G7 C
|
|
G7 C
|
F A7
|
A7 Dm
|
|
G7 C
|
F G7 C
|


C chord, (C-E-G)
F chord, (F-A-C)
G7 chord, (G-B-D-F) [G Dominant 7th]
Am chord, (A-C-E)
Em chord, (E-G-B)
Dm chord, (D-F-A)
D7 chord, (D-F#-A-C) [D Dominant 7th]
A7 chord, (A-C#-E-G) [A Dominant 7th]
[Review: Dominant 7th Chord]
_______________________________________________________
Learn more songs for holidays:


Easy Piano Christmas Songs – Deck The Halls, Jingle Bells, Up On The Housetop and more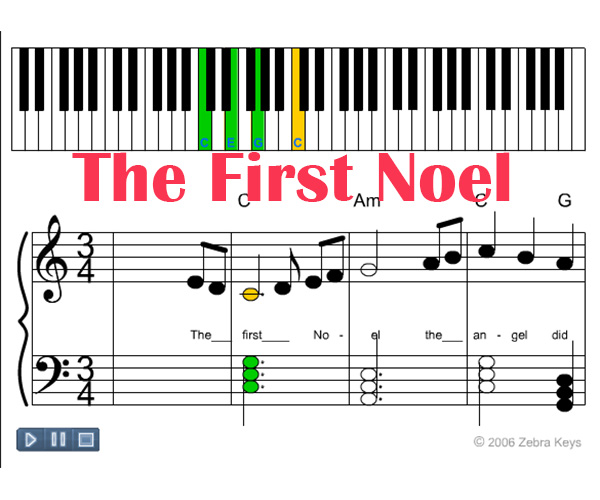 Basic Piano
Lesson 3 – Names of Black Keys
Beginner Piano
Lesson 6 – Brother John