Watch the demo playing Clair de Lune, one of the famous classical pieces.
You can find sheet music for Clair de Lune here.
| | |
| --- | --- |
| 50 Free Online Piano Lessons | |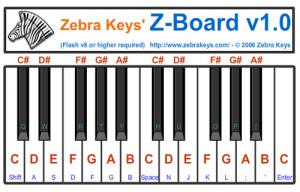 Free Virtual piano keyboard
_______________________________________
10 for 10 Sheet Music Classical Piano Favorites: Piano Solos
Titles:

* Jesu, Joy of Man's Desiring (Bach)
* Moonlight Sonata (Beethoven)
* Waltz in A Minor (Chopin)
* Clair de Lune (Debussy)
* Rhapsody in Blue (Theme) (George Gershwin)
* The Masterpiece (Mouret)
* Rondo Ala Turca (Mozart)
* Theme from Concerto #21 (Mozart)
* Rhapsodie on a Theme of Paganini (Rachmaninoff)
* Flight of the Bumble Bee (Rimsky-Korsakov)
Alfred's Basic Adult Piano Course: Lesson Book, Level One
First Book of Classical Music
Book Description
Fun-to-play, pedagogically sound piano arrangements include themes from Beethoven's "Pathétique" Sonata and Haydn's "Surprise" Symphony, along with such favorites as Schumann's Träumerei, Brahms's Lullaby, Chopin's Prelude, Tchaikovsky's Marche Slave, Moussorgsky's Promenade (from Pictures at an Exhibition), and many more. Includes 20 piano arrangements. Read Reviews.
__________________________________________
Alfred's Basic Adult All-in-One Course, Bk 1: Lesson * Theory * Technic (Book & DVD) (Alfred's Basic Adult Piano Course)
Includes lesson, theory, technic and additional repertoire in a convenient, "all-in-one" format. This comprehensive course adds such features as isometric hand exercises, finger strengthening drills, and written assignments that reinforce each lesson's concepts. The accompanying DVD includes an introduction to all the pages in the book and performances of the pieces by well-known teacher, Gayle Kowalchyk. Titles:
* Alouette
* Alpine Melody
* Amazing Grace
* Au Claire de la Lune
* Aunt Rhody
* Auld Lang Syne
* Aura Lee
* The Entertainer
* A Friend Like You
* Go Down, Moses
* Good King Wenceslas
* Greensleeves
* Happy Birthday to You!
* Jingle Bells
* Joy to the World!
* Kum-ba-yah!
* Largo (Dvorak)
* Lavender's Blue
* Lightly Row
* Ode to Joy
* On Top of Old Smoky
* Scarborough Fair
* Shoo, Fly, Shoo!
* Skip to My Lou!
* & More