"I'm A Little Teapot", also known as "The Teapot Song", is a popular nursery rhyme. This song was first published in 1939 by George Sanders and Clarence Kelley who wrote the song.
Learn how to play this song – click to download free sheet music
This song is played in 4/4 time, which means that there are 4 beats in a measure, and each beat gets a quarter note (review note duration). There are 3 chords in this song – C, F, and G:
C chord: C – E – G
F chord: F – A – C
G chord: G – B – D
Use ZebraKeys' virtual piano below to practice playing this song now:

Instructions for using Z-Board
- To play melody (right hand) – Use computer mouse to click directly onto the keys (notes highlighted in Red) on Z-Board.
– To play chord (left hand) – Press down all of the buttons (letters highlighted in Blue) on the computer keyboard at the same time. (e.g. for C Major chord: "

C – E – G

" -
Press "

Shift – S – F

" at the same time.)
Chord
Name
_____
Play on
piano or
Z-Board
Play on
Computer
Keyboard

C chord

C – E – G

Shift – S – F

F chord

F – A – C

D – G – Space

G chord

G – B – D

F – B – N
I'm A Little Teapot Singalong with Lyrics – Click below:

There are many variations of lyrics over the years – this is the original lyrics: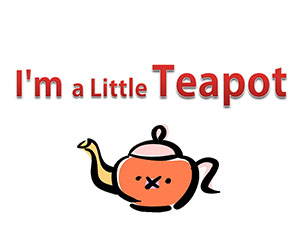 I'm a little teapot, short and stout,
Here is my handle, here is my spout.
When I get all steamed up, hear me shout,
Tip me over, and pour me out!
I'm a special teapot, Yes, it's true,
Here's an example of what I can do.
I can turn my handle into a spout,
Tip me over and pour me out!
Yamaha YPT-230 Premium Keyboard Pack
Download more sheet music for beginners
Custom Search
Learn more easy songs with Free sheet music:
Piano Basics
Lesson 1 – Layout of Piano Keys
Lesson 2 – Names of White Keys
Lesson 3 – Names of Black Keys
Lesson 4 – Piano Grand Staff
Lesson 5 – Music Notation – Note Durations
Beginners Piano
Lesson 6 – Learn How to Play "Brother John"
Lesson 7 – Learn How to Play "London Bridge is Falling Down"
Lesson 8 – Learn How to Play "Twinkle Twinkle Little Star"
Lesson 9 – Playing the Major Chord
Lesson 10 – Three Primary Chords
Lesson 11 – 12 Bar Blues Chord Progression
See List of 50 Free Piano Lessons