Learn how to play this popular song, "Clementines" on piano keyboard.
Watch animation demo played on Synthesia keyboard, and use the virtual piano below to try for yourself. Download Free Clementines sheet music.
This song is played in 3/4 time, which means that there are 3 beats in a measure, and each beat gets a quarter note [Review: note duration]. There are two chords in this song – C and G:

C chord: C – E – G
G chord: G – B – D

The Best Songs Ever (Big-Note Piano)
Use the virtual piano below to practice this song online now!
 
Instructions for using Z-Board
- To play melody (right hand) – Use computer mouse to click directly onto the keys (notes highlighted in Red) on Z-Board.
– To play chord (left hand) – Press down all of the buttons (letters highlighted in Blue) on the computer keyboard at the same time. (e.g. for C Major chord: "

C – E – G

" –
Press "

Shift – S – F

" at the same time.)
Chord
Name
_____
Play on
piano or
Z-Board
Play on
Computer
Keyboard

C chord

C – E – G

Shift – S – F

F chord

F – A – C

D – G – Space

G chord

G – B – D

F – B – N
Click on the sheet music below
to download "Clementine" Free sheet music: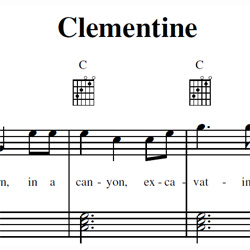 ______________________________________________________________________________
Rockabye Baby | Skip To My Lou | The Ash Grove
Deck the Halls | Jingle Bells | This Old Man | Yankee Doodle
Fur Elise | Ode to Joy | The Entertainer
Learn how to play these songs online for Free: