Piano technique is how piano players physically execute their performance. A good way to improve piano technique is to perform finger exercises.
You can learn some finger exercises that are really fun to play and also fun to listen to. These exercises will also improve your finger strength and flexibility.  Below are three finger exercises that you can practice. You can practice playing these techniques on your piano, or the virtual piano Z-Board below:
Pentatonic Scales
Whole Tone Scales
Arpeggio Scales
Pentatonic Scales
Pentatonic" scale – is when you play only the notes of the black keys. Playing just the black keys is an easy way to play the 5-note Pentatonic scale. The Pentatonic scale creates a mood that may remind you of songs from East Asia. Watch the video below on how to play "Pentatonic Scale".
Formular of Pentatonic Scale:

| | | | | | |
| --- | --- | --- | --- | --- | --- |
| Root | WS | WS | WS+HS | WS | WS+HS |

OR

| | | | | | |
| --- | --- | --- | --- | --- | --- |
| Root | 2HS | 2HS | 3HS | 2HS | 3HS |
| F♯ | G♯ | A♯ | C♯ | D♯ | F♯ |
Use online interactive Z-Board below to learn how to play:
Angels We Have Heard on High
This Old Man


___________________________________________________________________
Whole Tone Scales
Whole Tone" scale – is a 6-note scale of which each note is separated by an interval of one whole step or whole tone. This series of notes creates a mood that is strange and mysterious. Watch the video below on how to play "Whole Tone Scale".

___________________________________________________________________
Arpeggio Scales
Arpeggio" scales – are chords that are played one note at a time instead of together. You will be playing arpeggio in C major chord.. Watch the video below on how to play "Arpeggio".
============================================================
Alfred's Basic Piano Library: Technique Level 1A

Mastering Piano Technique: A Guide for Students, Teachers and Performers
Learn more piano technique, and find books that help you strengthen your finger powers and improve your note reading skills.
It is recommended that technical exercises including scales practicing be done prior to playing any songs, in order to help increase your music reading skills.
Watch "Five Finger Exercise" video.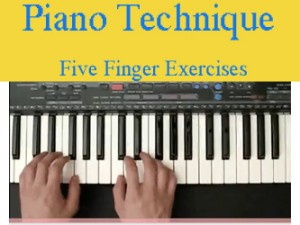 Yamaha YPT-230 Premium Keyboard Pack with Headphones, Power Supply, and Stand
Alfred's Basic Adult All-in-One Course, Bk 1:
Lesson * Theory * Technic (Book & DVD)
This comprehensive course includes isometric
hand exercises, finger strengthening drills
written assignments, and more
___________________________________________________
Piano Basics
Lesson 1 – Layout of Piano Keys
Lesson 2 – Names of White Keys
Lesson 3 – Names of Black Keys
Lesson 4 – Piano Grand Staff
Lesson 5 – Music Notation – Note Durations
Beginners Piano
Lesson 6 – Learn How to Play "Brother John"
Lesson 7 – Learn How to Play "London Bridge is Falling Down"
Lesson 8 – Learn How to Play "Twinkle Twinkle Little Star"
Lesson 9 – Playing the Major Chord
Lesson 10 – Three Primary Chords
Lesson 11 – 12 Bar Blues Chord Progression
Lesson 12 – 12 Keys of Music
Lesson 13 – Major Scale
Lesson 14 – Intervals
Lesson 15 – Chords of the Major Scale
Lesson 16 – Circle of Fifths
Lesson 17 – Chord Inversions
Lesson 18 – Double Chord Pattern
Lesson 19 – Broken Chord Pattern
Lesson 20 – Arpeggio Chord Pattern
Lesson 21 – Sounds of the Orient (Pentatonic Scales)
Lesson 22 – Mysterious Sounds (Whole Tone Scales)
Lesson 23 – Arpeggios