Learn to play this easy and popular children song, Camptown Races. Here, the song is played in 4/4 time, which means each measure gets four beats, and each quarter note receives one count. Watch the second video, comes with fun singalong lyrics.
Download free Camptown Races sheet music.

There are three chords used in this song – C chord, G chord, and F chord.
See notes for this song below:

|
G
|
G G E G
|
A G E
|
E D
|
E D G
|
|
G G E G
|
A G E
|
D E D
|
C G
|
|
G G E GG
|
A G E
|
E D
|
E D G
|
|
G G E GG
|
AAGG E
|
D E D
|
C
|
|
C C E G
|
A
|
A A C A
|
G G
|
|
G G EEGG
|
A G E
|
D EF E D D
|
C
|





Download Camptown Races Free Sheet Music below: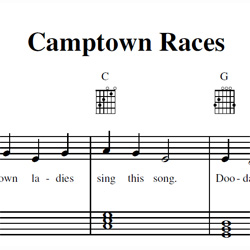 ________________________________
Beginner Songs
Lesson 7 – Learn How to Play London Bridge is Falling Down
Lesson 8 – Learn How to Play "Twinkle Twinkle Little Star"